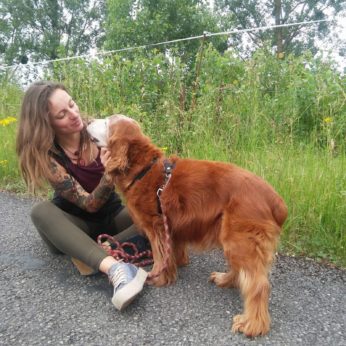 Anna P.
Profil aktiv
Petsitting(Dogs-cats-reptiles-fishes-birds) / Dogwalking–weeks/ week-ends and holidays

Tier: Vogel, Katze, Hund, Express-Petsitting, Fisch, Kleintiere
Typ: Express PetSitting/ Pet Day Care/ Pet Feeding/ Pet Sitting/ Pet Walking/ Vacation Replacement
Ort:

8041 Zürich, Switzerland

Verfügbarkeit: Only weekends
Mobil: Yes
Lohn: By arrangement
---
Beschreibung
Hi!
I am Anna, animal lover since… always !
I am living in Zürich, but I am from France where I used to work as a zoo keeper, falconer, and animal keeper in a dog shelter.
I am full of love, patience and energy for your animal ! I can't wait to take care of your little friend ! 🙂
---
Ort
---
Arbeitserfahrungen
April to August 2017
Animal keeper bei SPA Thionville

Mostly with dogs but also cats

April to October 2015
Falconer / animal keeper bei La Montagne aux marmottes
July/August 2016
Falconer bei Les géants du ciel
September 2014 to March 2015
Zoo keeper bei Zoo d'Amnéville
June 2018 to now
Dogsitter bei Vanessa

3 jacks russels to walk and stay with, 2 days a week

To contact this petsitter, you have to be registered as a Premium Member.
Click here for more information.
---